Ideas That Work: Connecting The Branding Disconnect
When you're a member organization whose members are providers of lifelong learning and continuing education for nontraditional credit-seeking students, you have a lot of people and businesses watching what you're doing. Namely, the colleges and associations to which you're delivering exclusive content. And being a practicing example of the principles you teach is non-negotiable.
So what happens when you realize your organization's marketing efforts could use a little tweaking? Or that your recently revamped website was merely the first step toward enhancing your entire branding presence and that the scope of work involved in a refreshed-branding project is beyond your current capabilities? You seek out a partner who will listen to your concerns, bring ideas to the table, and work collaboratively with you to match your existing brand while unveiling a fresh and consistent new image.
This was precisely the case when Learning Resource Network (LERN), headquartered in North Carolina, partnered with The F.P. Horak Company, a print and marketing solutions provider, based in Saginaw, Michigan.
THE BACKGROUND
As the world's largest association representing the lifelong learning industry, LERN provides its members with marketing, finance, management, sales, and product development tips and information via exclusive reports, publications, and tutorials. There is also an online portal, which serves as an interactive forum where members can ask questions and share ideas with their colleagues. With an active community of 1,100+ members, communicating a unified message across web, print, and digital marketing channels is imperative. All branding components must be easily recognized by members and prospective members, and marketing messaging must be coherent and cohesive. Further, as a thought-leader and consultant in the continuing education sector, LERN's own marketing collateral must be of the same caliber it suggests to its members.
In short, LERN needs to walk the walk.
THE PROBLEM
After a careful and critical review of LERN's marketing and branding, one thing became clear: It was not achieving the unified presence it was looking for—and that it recommended to its own member organizations.
Because the LERN team had a stable of several graphic designers and copywriters from which to pull, the intended cohesive message became blurred as all of the associates brought their own flavor to the marketing pieces assigned to them. And while the projects looked and functioned well as standalones, they ultimately didn't fit a "total package" look and feel. In order to create strong brand recognition and set the tone for future marketing project consistency, parameters would need to be set and adhered to by the entire LERN team.
After consulting with The F.P. Horak Company, the decision was made to move forward with a branding package. The biggest challenge? With LERN stepping into its busiest time of the year—its annual conference season—many large projects, including materials for conference attendees, needed to be completed all at once; coordinating timely deliveries was essential.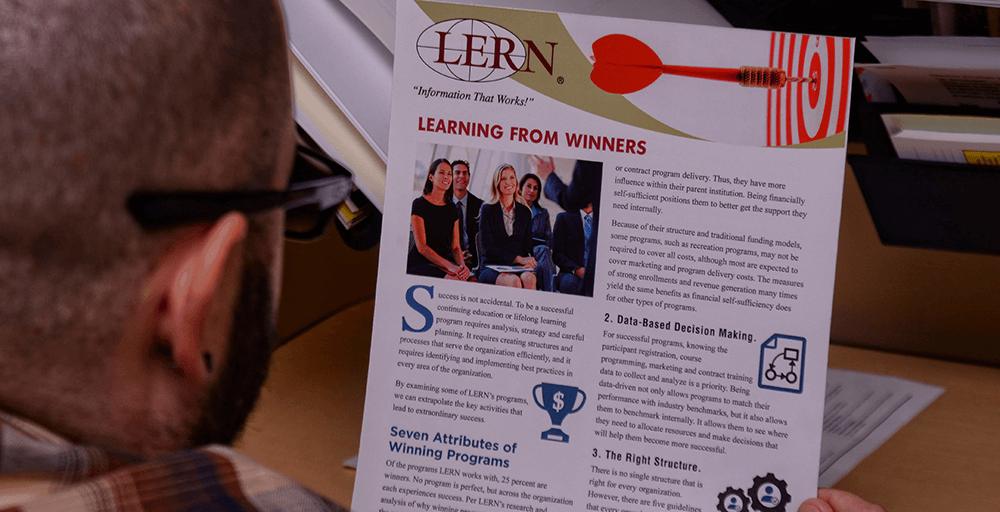 THE SOLUTION
With a monumental challenge laid out before them—creating a unified image prior to LERN's annual conference in Baltimore—the F.P. Horak team set to work. In addition to tying together all of LERN's day-to-day marketing efforts across all platforms, from print to web to digital, the team was also tasked with creating the annual conference collateral for the meeting's 750 attendees. An engaging, user-friendly conference notebook complete with session schedules, visually appealing reports, note pages, and attention-grabbing fliers enhanced the attendees' experiences, as did a custom conference app, for which F.P. Horak designed the logos.
If there had been a disconnect between LERN's previous design elements, it was no longer apparent. Instead, a coherent user experience had taken its place, allowing LERN to shine as the valuable resource it is to its members.
THE RESULTS
LERN is now walking the same walk it recommends to its members.
"F.P. Horak exceeded the mark when it came to deadlines and was able to keep up with us every step of the way," says Katie Lynch-Morin, LERN's director of communications.
In addition to compliments from attendees on the annual conference package and the refreshed, cohesive branding, LERN is also realizing cost savings on a newsletter project as a result of its collaboration with F.P. Horak.
"By their suggesting a change in our printing, mailing, and shipping plan for one of our newsletters, we're saving $6,000 per year, just on that piece alone," says Lynch-Morin.
Cost savings and "wowed" end-users: Now that's a branding win!
BY LIBERTY KONTRANOWSKI
Enjoy this article? Share it!
Enjoy this article? Share it!
More Print & Mail posts
Recent Posts
Categories