Ideas That Work: Raise the Roof
By Laurie Hileman
Sometimes fun, fresh, and effective ideas come from thinking outside the box—and inside and around it.
That's what happened when a national pre-fabricated roofing systems manufacturer needed to educate its top contractors on a host of new product offerings. The manufacturer turned to The F.P. Horak Company, a full-service print and marketing communications services provider headquartered in Saginaw, Michigan, to develop a direct mail campaign that would raise the roof (or, better yet, roof awareness!) and increase sales.
Background
Duro-Last, the world's largest manufacturer of pre-fabricated roofing systems, is best known for its unique, single-ply roofing membrane (similar to a pool liner) used on flat and low-slope commercial roofs.
With headquarters in Saginaw, Michigan, the company has five manufacturing facilities throughout the United States and employees nearly 700 people. It relies on a network of contractors and specially trained installers to win new business and deliver each new roof on time and within budget.
Problem
"A product explosion" is how Jenny Bruzewski, marketing communications manager for Duro-Last, describes it. In recent years, the company created a series of new products designed to meet different specifications and needs from around the country. A variety of color and installation options are now available to help the company's contractors win more jobs.
Despite the company's traditional advertising and PR initiatives with each new product rollout, Bruzewski and her team felt their contractors' overall understanding of the breadth and scope of product lines available through Duro-Last came up short.
It was time to think outside the box.
Solution
Wanting to try a targeted direct mail campaign delivered to the company's top 700 contractors, Bruzewski and her team interviewed several advertising and marketing agencies.
They selected The F.P. Horak Company, which proposed an attention-grabbing personalized 3-D mailer in the shape of a building. "We really got excited about it (the concept presented in the initial meeting)," says Bruzewski. "They had great ideas and were sketching things out, exactly what we were envisioning."
On the mailer, each contractor's company name was featured prominently across the front of the building, while the promotional copy inside referenced the contractor by first name and directed him to his own personalized landing page (PURL) for more information.
"It (personalization) took the sales promotion to the next level," says Bruzewski.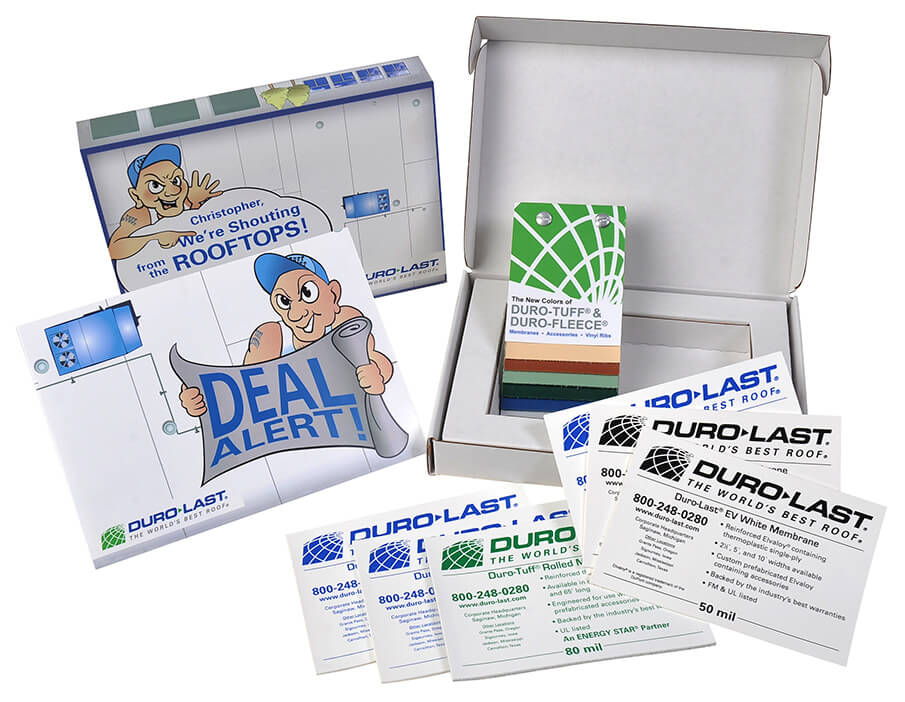 Each box housed a collection of roofing samples, product information, and a brief Duro-Last survey. Because the main goal of the campaign was to raise product awareness, the survey asked questions that would help Bruzewski's team better understand what contractors knew about Duro-Last products. As an incentive to answer the survey, Duro-Last offered $50 in credit for its advertising co-op program that it uses with contractors.
Marketing copy centered squarely on contractor needs by asking: How can we help you get on more roofs next summer? For a visual punch, F.P. Horak illustrators updated an old company mascot, the Tuff Stuff Guy, with a fresh, modern look.
Three weeks after the original box mailers were sent, a follow-up postcard—repeating the same visual elements and incentives—was mailed to anyone from the mailing list who had not yet responded.
Results
Contractors took notice.
The initial mailing generated an impressive 8.9 percent response rate while the follow-up postcard generated a 3.6 percent boost. More than 67 percent of respondents requested more product information.
And just as important were the survey results confirming Bruzewski's suspicions.
"Even our top customers weren't aware that we had some of these products," she explains. The company discovered that long-time contractors, including some of their best customers, weren't familiar with new—and even some traditional—product offerings. As a result, Bruzewski and her team are tailoring future marketing efforts based on the survey results.
The fun and informative mailers were just as much a hit internally as they were with contractors. Bruzewski ordered several hundred extra boxes without personalization so the Duro-Last sales team could continue using the unique tool for prospect meetings, trade shows, and other sales opportunities.
"This was the first time we did something out of the box like this; it's gone over well," she says.
Enjoy this article? Share it!
Enjoy this article? Share it!
More Case Study, Print & Mail posts
Recent Posts
Categories