Ideas That Work: Come On, Get Snappy!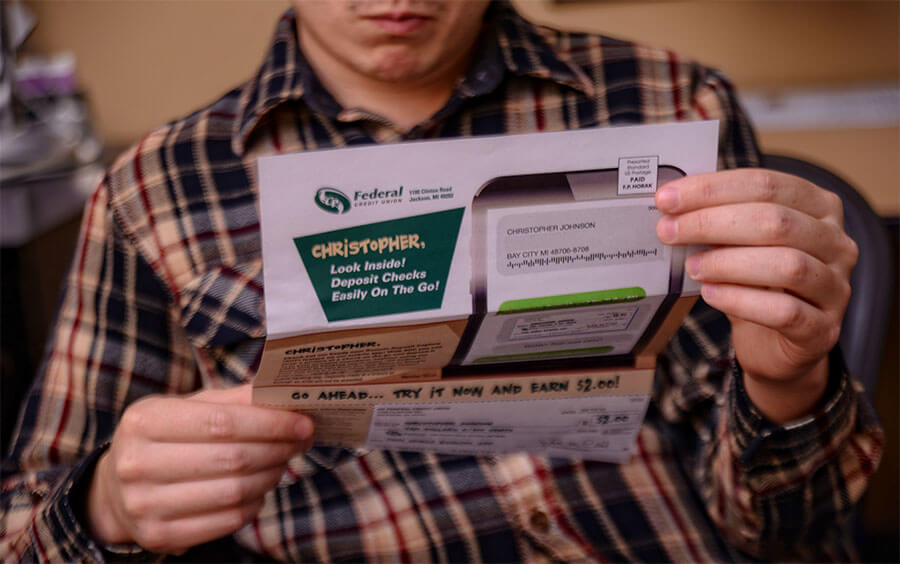 Remember the days when banking meant getting into your car, driving to your local branch, and waiting in line until you finally got face-to-face with a teller?
My, how things have changed. 
These days, people are busier than ever. They're working later and can't get to the bank or credit union during regular business hours. Or they're going straight from a 9-to-5 to their kids' games. Weekends are spent bustling here or there, and time is at a premium. Convenience, it seems, is no longer a luxury. It's a necessity.
Financial-institution employees and decision-makers have listened to their customers or members, as they're called by credit unions. (And they understand these challenges firsthand because they experience them in their own busy lives.) Money management on-the-go is the way of the future—and the present. If financial institutions are going to stay competitive, they need to stay at the forefront of technology, delivering solutions their customers sometimes don't even know they need.
Understanding this, two financial institutions have created mobile solutions intended to make check depositing simpler and more accessible than ever.
THE BACKGROUND
Financial institutions have a big job: offering products and services that make money management for their customers as functional and reliable as possible. Sometimes, products are created in response to consumer demand; sometimes, they're developed to address an anticipated need.
With online banking (performed through a computer) and mobile banking (performed through a smartphone) becoming prevalent, developing applications that expand consumers' banking capabilities has become a priority.
"Customers are adapting to doing their banking from home. Having a mobile app—and all its functionalities—at their fingertips is definitely a big focus for us," says Tricia Raquepaw, senior VP of  marketing for Independent Bank.
THE PROBLEM
With the rapid expansion of the digital era, consumers have more ways than ever to do business. While promises of convenience and an enhanced user experience are certainly appealing, the expanse of new choices can feel overwhelming. Further, concerns about personal security and the alarming trend of identity theft cause many to err on the side of caution. This makes the need for customer education and trust-building important for businesses dealing with highly personal services, such as money management.
To ensure that consumers feel secure with these new services, financial institutions need to prove that their applications are as safe as they are convenient. Educating the customer is the most effective way of doing this.
THE SOLUTION
With the rise in check deposits via ATMs, financial institutions recognized the need for a mobile check deposit application. If customers could snap a photo of their paper check and send it through a secure application, banks and credit unions could create a simple, effective user experience.
"A mobile check-deposit offering creates a time- and cost-savings efficiency for us as a business and for the member," says Sarah Ermatinger, VP of marketing for CP Federal Credit Union. "It's the next step in mobile convenience."
With this in mind, Independent Bank and CP Federal Credit Union developed their own products: Independent Bank's SnapCheck and CP Federal's Remote Deposit Capture. To introduce customers to these new products and alleviate their fears ("Did it work?" "Did my check go through?" "Can I throw away my check now?"), the institutions partnered with The F.P. Horak Company, a print and marketing solutions provider, based in Saginaw, Michigan, to create a marketing campaign. The direct mail campaign sent customers an actual paper check that they could deposit only through each institution's new check-deposit applications. To earn the recipients' trust, the direct mail pieces were personalized and delivered step-by-step instructions on how to deposit the check. The goal was for the recipients to be so impressed by the ease of use, they'd continue to use the application.
THE RESULTS
Both Independent Bank and CP Federal Credit Union reported a favorable response rate related to the mailings. Customers are trying the apps and becoming repeat users. And while the experience is still new, initial results are encouraging.
"Five to seven years ago, mobile capabilities were considered cutting edge. Now, if you don't have these technologies, you're not going to stay competitive," says Raquepaw.
Given the early results of their mobile check-deposit applications, these financial institutions are making "competitive" their mantra. And they're succeeding at it.
Enjoy this article? Share it!
Enjoy this article? Share it!
More Omnichannel Marketing posts
Recent Posts
Categories