Ideas That Work: People-oriented Metrics Help Tell The Full Story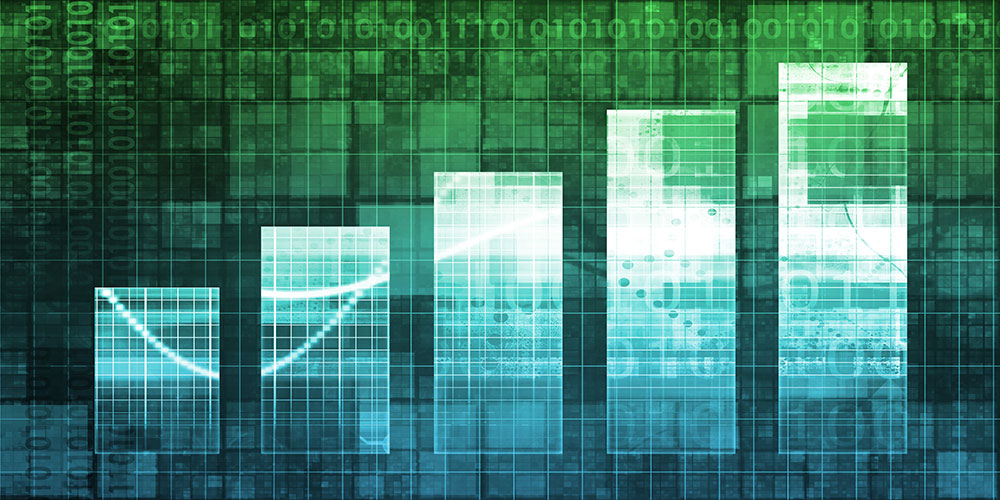 Sustainability is a buzzword that pervades nearly every industry, but it's a particularly hot topic in manufacturing. While sustainability is often thought to relate specifically to the environment, other viability considerations include business ethics, supply chain relationships, health and safety concerns, value creation in manufacturing, and community involvement and support.
So important are these sustainability focus areas, the Hong Kong Exchange will be mandating that each of its companies, those listed with the exchange for stock trading, file a sustainability report beginning in 2017. The report must demonstrate the company's performance in meeting key performance indicators across Environmental, Social, and Governance sectors.
Understanding the importance of this mandate, Nexteer Automotive, a global manufacturer of steering and driveline products, decided to create a voluntary report in 2016, reflecting its 2015 metrics. The report would not only serve as a practice run for the mandatory 2017 report, it would introduce stakeholders to the reporting concept.
THE BACKGROUND
With decades of experience in developing products such as electric power steering, hydraulic power steering, driveline systems, and steering columns and intermediate shafts, Nexteer was well-versed in productivity and performance reports. But with the impending Hong Kong Exchange report filing requirement, the company realized the importance of demonstrating people-oriented metrics. In order to truly exemplify how well Nexteer performs from a humanitarian standpoint, the initial report had to do more than show charts and graphs. (Of course, it had to do that, too!) It also had to engage and inspire through anecdotal content. And it had to be inclusive of all the far-reaching work groups and communities in which Nexteer operates.
THE PROBLEM
Because Nexteer had never created a sustainability report as comprehensive as the one soon to be required, the task seemed grand. The report needed to tell a story while transcending the cultures of a worldwide audience. Highlighting employee engagement was as important as proclaiming awards and recognition from the National Safety Council. And the report needed to be delivered on Earth Day 2016—indeed, a most symbolic day, and one that closely aligned with Nexteer's annual financial report.
With new territory to be explored in a fairly tight timeline, Nexteer employed the services of The F.P. Horak Company, a print and marketing solutions provider, with an expertise in custom publishing, based in Saginaw, Michigan. With experience in creating detailed, engaging, and visually stimulating reports and publications for clients of all types, The F.P. Horak Company could create the proactive report Nexteer was looking for.
THE SOLUTION
After conversations about how to best reach a global audience of stakeholders, employees, and key decision-makers within the communities in which Nexteer operates, the team opted to frame messages through a storytelling approach.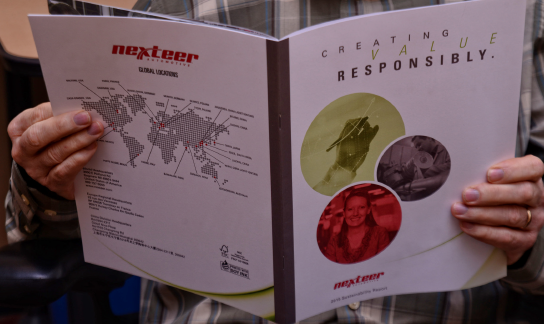 "Because a compelling narrative is essential for an organization looking to engage readers and inspire action from stakeholders, Nexteer's performance against articulated sustainability goals was told through anecdotal content and vivid accompanying photographs of employees from multiple worldwide manufacturing sites," says Mimi Bell, editorial director at The F.P. Horak Company.
"These included, for example, for a story about conserving resources, reducing emissions, and recycling materials, how used grinding wheels from Nexteer Automotive manufacturing plants are recycled, converting them into sandpaper; how Nexteer ergonomics team members in Mexico were recognized for their ergonomic approach to support new product launches; and how cycling enthusiasts (who are also employees) from Nexteer facilities across Europe are raising charitable funds through bike races."
The end result? A highly detailed report that contained the necessary charts and graphs broken down into digestible and easy-to-understand blocks of knowledge—and one that also shined a spotlight on Nexteer's dynamic workforce.
THE RESULTS
Nexteer's first sustainability report, Creating Value Responsibly, was delivered to stakeholders on Earth Day 2016. It included 2015 metrics on all identified key performance indicators while engaging its audience with the "story" of Nexteer and its worldwide workforce and partnerships. The report was well-received by Nexteer's board of directors and is now being included in employee recruitment packets. It will also serve as a template for reporting framework going forward.
"Sustainability is very much part of the Nexteer culture and is an area of focus that will continue to grow over time as we seek a sustainable future for the organization," says Jerry Rush, corporate public affairs leader for Nexteer. "This report will help build the brand of Nexteer from a sustainability standpoint, both internally and externally."
BY LIBERTY KONTRANOWSKI
Enjoy this article? Share it!
Enjoy this article? Share it!
More Case Study, Omnichannel Marketing posts
Recent Posts
Categories