Ideas That Work: Going Beyond The Norm
Let's face it, whichever marketplace you're in, it's probably crowded. Customers have more options than ever and are no longer bound by geographical restrictions. The entire business landscape is at their fingertips via the web, and choosing the company they'll work with can be decided with a click. That's why capturing the attention of prospects during the infancy of a creative project is essential. And in order to get a prospect's attention, businesses must do one thing well: Stand out.
Knowing how important offering "something more" is to creating long-term business partnerships, Millcraft, a 96-year-old independent distributor of paper and packaging headquartered in Cleveland, called on The F.P. Horak Company, a print and marketing solutions provider, based in Saginaw, Michigan. The request was to help Millcraft develop a campaign that would establish itself with customers and prospects as a full-service partner, capable of taking creative projects from the earliest brainstorming phases all the way through to printing and production. Together, Millcraft and The F.P. Horak Company set out to show clients how to take "the norm" and turn it onto its proverbial head.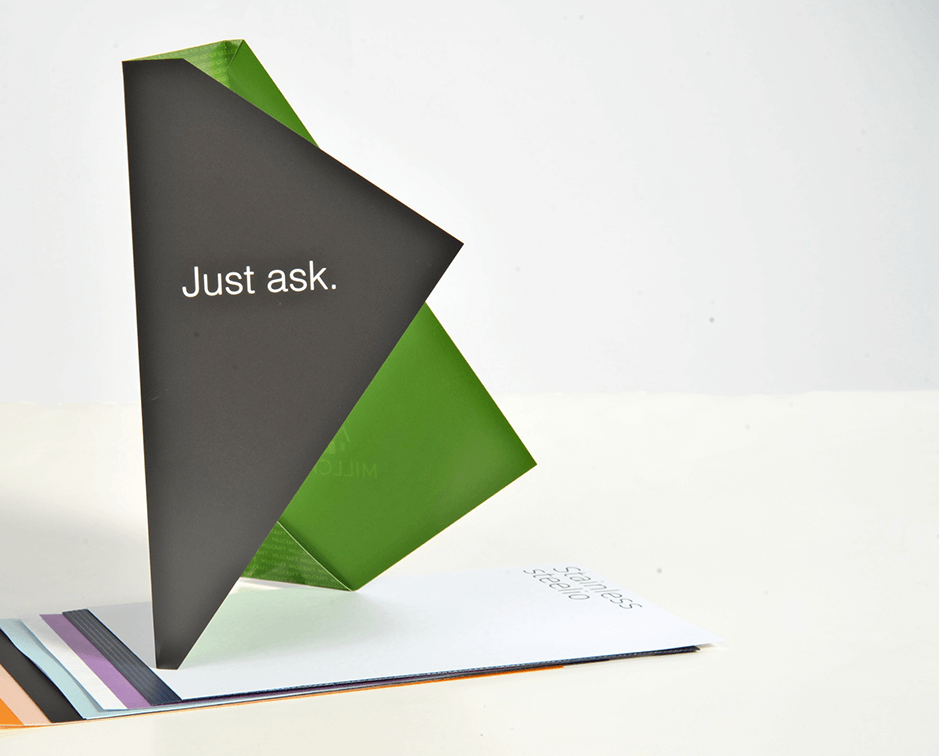 The Background
Millcraft, having been in the paper and packaging industry for nearly a century, knows the business well. Strategic partnerships with paper mills and a talented team of staff sales personnel have resulted in satisfied, long-term clients.
Yet while Millcraft was (and is) certainly revered for the work it does to support the production of a customer's project, it was rarely looped in during the project's inception. Why? Most clients didn't realize Millcraft had those brainstorming capabilities.
A growth opportunity became very clear: Understanding how the idea-generating stages of the creative process could help clients become more efficient, effective, and increase production speed was that "something more" Millcraft could offer. If interaction with the end-user (that is, printers, graphic designers, and creative agencies) began early enough in the project's life cycle, Millcraft could identify out-of-the-box materials options to create lasting, attention-getting marketing campaigns that really wow.
The Problem
Because most clients had settled into the buyer/supplier relationship with Millcraft, educating clients on the importance of selecting the right materials to enhance their marketing initiatives became imperative. Thus, if a campaign was to be created, the approach must not be scattershot. Identifying highly targeted prospects and vetting them to ensure the campaign reached the proper decision-makers was essential. Sample paper stocks needed to be sourced from mills, and the creative concept and design had to sparkle. Prospects needed to be reached multiple times in order for Millcraft to establish brand awareness and promote client engagement. And "touches" needed to include a specified online location (a landing page) where prospects could go to learn more about Millcraft services or request a meeting. The campaign was going to be a huge undertaking that would span the course of months.
The Solution
Having extensive experience in creating multi-touch marketing programs that deliver solid results for customers, The F.P. Horak Company set to work, creating the "Materials Matter" campaign.
Five marketing mailings bring the campaign to life for the 750 recipients that Millcraft targeted, with Touch One being an introductory fly sheet and Touch Five asking the prospect for the meeting. In between, sleeves of sample stocks collaboratively sourced from paper mills introduce prospects to the myriad of options available to them. Clever quotes printed on the sample papers convey the "feel" of the material so that prospects can get a true appreciation for how the end-user might perceive it. The sleeves themselves are even showpieces, made from a durable, water-resistant, synthetic paper called Yupo, and with Millcraft branding prevalent to drive home awareness of capabilities.
Each of the touches promotes a trackable landing page, where prospects can request additional paper samples and complete survey questions that help Millcraft learn more about the potential customer's needs and interests. Additionally, a hit to the landing page's URL triggers an alert to the Millcraft team, allowing the local sales rep to follow up immediately.
The Results
The strategic timing of the campaign's touch points has ensured that prospects receive relevant messaging in a swift manner, driving home brand recognition and keeping Millcraft top of mind. Because the primary focus of this campaign was to introduce Millcraft as a start-to-finish project resource, making contact early in the project process has been a huge win.
"We've seen enhanced engagement and have scheduled meetings and education sessions [with prospects]," says Courtney Enser, Millcraft's director of marketing and sales alignment. "We're getting that crucial face-to-face time with prospects, and that's what it's really about—being a resource to the agency or end-user and generating ideas to tie together print, paper, and creative."
BY LIBERTY KONTRANOWSKI
Enjoy this article? Share it!
Enjoy this article? Share it!
More Case Study, Omnichannel Marketing posts
Recent Posts
Categories